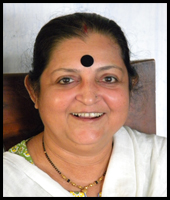 Qualification : M.A, M.Phil
Specialization : Elizabethan Literature
Designation : Associate Prefessor

Publications in the last 4 years :
Dance : A Key to Physical Fitness and Mental Health in
The Image of the Danseuse in Indian Writings in English.
 The Women Characters in Upendra Kishore Roy Chowdhury'sTuntunirBoi.
Participation in College Activities :
Currently Head of the Department of English.
Member of the NAAC Steering Committee.
Teacher representative of the Governing Body.
Convenor of the Distance Education Sub- Committee, Cultural Sub Committee.
Member of the Finance Committee, Academic Sub Committee and Library Sub Committee.
Academic Activities :
Paper setter and Head Examiner, Calcutta University.
Taking  post-graduate classes at the RabindraBharati University Distance Education Centre.
Taking post-graduate classes at Narasingha Dutta College affiliated to Calcutta University.
Designer and executioner of the Communicative English Course at DCH College.
Extra Curricular Activities :
Organizing and participating in cultural activities like music and dance and water ballets both in and outside the College.
Training students to fight shyness and speak on different issues.
Preparing students for inter college seminars.
Organizing excursions for the departmental students.
Associated with a wing of an organization, EDUCATION PLUS, helping  under-priviledged children with their studies and teaching them dance.