1. BOTANY DEPARTMENT
1. Energy and Space Saving Device:
The Department of Botany at Dhruba Chand Halder College has been active in the thought of conservation of energy in the campus for some time. The teaching faculty here, came up with a novel idea of deriving maximum benefits, using minimum expenditure. The Science laboratories in most departments usually use rectangular or square tables for various experiments. This requires individual lighting arrangements so that the students can see, identify and examine the intricacies and minute details of their experiments. The teaching faculty of the department of Botany in this college have designed octagonal tables in such a way that only one bulb placed on a table can serve the purpose of a batch of many students at the same time. The original tables of 20 feet each, have been reduced to 12 feet each, enabling   6 students use one table at a time. The microscopes are placed in such a manner that 6 students can work on their experiments, using a single table at the same time. This not only checks the amount of energy exhausted, but also helps in space saving.
| | |
| --- | --- |
| | |
2. GEOGRAPHY DEPARTMENT
PEOPLE'S BIO-DIVERSITY REGISTER – BELIADANGA MOUZA, JOYNAGAR BLOCK 1, SOUTH 24 PARGANAS
The main objective of this study is to prepare People's Biodiversity Register in consultation with the local people. The Register shall contain comprehensive information on availability and knowledge of local biological resources.
A Survey was conducted by the students of the Department of Geography, Dhruba Chand Halder College, Dakshin Barasat, South 24 Parganas, in Beliadanga Moza.
The primary aim of this survey is to find out the diversity in the different areas, in the lives of the people of a section of Joynagar, Block 1, South 24 Parganas, and to arrive at a conclusion thereafter. Since it is mainly a students' initiative, only the basic aspects have been taken into consideration.
Map: 1 Map of the study area
Name of the Area :       Beliadanga Mouja
                                       Joynagar, Block 1
Dakshin Barasat Gram Panchayat
District : South 24 Parganas
The name Joynagar owes its origin to Goddess Joy-Chandi, a powerful and popular deity of the people of South 24 Parganas.
History tells us that the last independent Hindu king of the Jessore region,(presently in Bangladesh), Pratapaditya Ray , was defeated by the Moghuls and consequently, compelled to flee .
Geographical Information :
| | | | | | |
| --- | --- | --- | --- | --- | --- |
| District | Block | Village | Panchayat | Main Road | Railway Station |
| South 24 Parganas | Joynagar Block1 | Beliadanga | Dakshin Barasat Gram Panchayat | College Road | Dakshin Barasat |
Administrative Information :
| | | |
| --- | --- | --- |
| Type of Governance | Executive Head | Political Head |
| Gram Panchayat | Block Development Officer | Panchayat Shabhapati |
| Beliadanga | Under State Government Administration | Under ruling party of West Bengal State Government |
The area is a plain land, with fertile and alluvial soil, and water bodies, with an elevation of 8metres.
There are 2 canals in this area, inundated with common water - hyacinth, which are used by the villagers in irrigation.
 The existence of a dead pond has been located here.
The adjoining areas are full of ponds which are owned by the Railways. These ponds have a lot of fish and the water is used regularly by the villagers for different purposes.
Marsh lands form a major part of land formation in this area.
Map: 2 Macro Topographical Image of the Study Area (Satellite Image)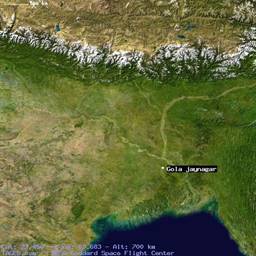 The inherited property in most of the families consists of agricultural lands and pucca/kancha houses.
The average measurement of land per family, varies from ½ to 8 cuttahs, whereas the more affluent families possess abiyt 10 to 12 bighas of land.
The area has a number of houses owned by different families alongside ones which are rented accommodations.
Type

Number

Ownership

Floors

Present Usage

ICDC

1

Government

1

School
Health center

Primary School

1

Government
aided

2

School

H.S School

Nil

College

1

Government aided

3

College
1 temple, about 50 years old, owned by the villagers, is seen in this area.
1 mosque owned personally by a family, is also found here.
There is a cemetery here.
The attraction of the villagers is a playfield of 4 cuttahs, owned by Sri Rabin Mondal.
There is a government owned tank here.
Drinking water is in abundance, made available by tube wells .
State owned powerhouse is responsible for providing electricity to this village.
Most of the people here, are either agricultural cultivators or labourers.
Many are also household industry workers.
Majority population has engaged in informal sector.
Women work participation rates are high in informal sector.
Map: 3 Bio-diversity Land use Map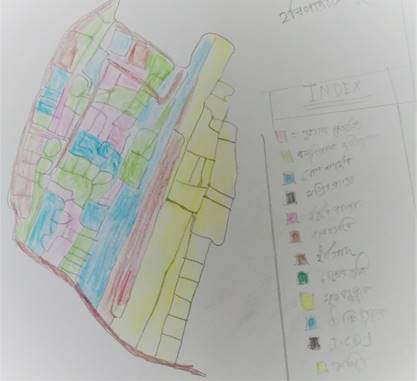 Students have prepared this above land use map after surveying their Bio-Diversity field study. It has been found from the land use image that the eastern part of the study area is covered by pond and orchard area. Other parts of the area are covered by mixed socio cultural zonation.  It has been found that most of the land covered by agriculture is where seasonal crops have been cultivated. Physio graphically this zone is very fertile. It has been observed from the study area that one natural canal, various natural ponds, mixed vegetation and indigenous trees are available. Residential area has been  found in the middle of the area, mostly private property. Cultural socio economic indicators (Previously mentioned) have been found in the western part of the study area. 
Conclusion based on the preliminary investigation :
This is a thin to medium populated area.
Once the entire land was an agricultural one, but parts of it were converted to ecological land.
The presence of a temple and a mosque suggests a peaceful co-existence of the Hindu and Muslim communities.
Natural resources are available but modern amenities are not up to the mark. 
Based on field based knowledge students have prepared this bio-diversity land use map.